BIM overlay added to architects' management document.
The RIBA Plan of Work is set to be overhauled for the first time in 50 years to include bim processes. The RIBA's new Plan of Work, which organises the process of managing and designing buildings, is due to be issued in early 2013 and will also include a green overlay, as well as changes in procurement. "It's a different way of doing things," said Richard Brindley, executive director for membership and professional support at the RIBA. "The actual processes are still there, but how they fit together is very different." Though still in its infancy, it is known that the new Plan of Work will identify stages by numbers rather than letters. "The bim overlay is just highlighting key aspects through the different stages that we should be looking for," said John Orrell, member of the core review group, which is led by Dale Sinclair. So far the group has produced a draft bim-overlay document and will meet this week to finalise the changes, which will eventually feed into the new Plan of Work.
Source: BDonline
Related articles
Yechte Consulting finalises the web development for an Art Gallery in Brussels and New-York.
Charles Riva Collection is a private, contemporary art collection situated in a beautiful 19th century townhouse in the center of Brussels. The space officially opened on April 24, 2009 with an exhibition of work by Jim Lambie. There will be two-to-four exhibitions throughout the year that will feature solo and group shows of work by artists collected over the years by Charles Riva. Charles Riva Collection is open on Thursdays - Saturdays 13h-18h30 and by appointment.
Source: charlesrivacollection.com
Related articles
BIM enables the design team to work together to model every detail of a building.
Up until the 1980s, the main purpose of architectural models was as a presentational material, to show clients and stakeholders how a concept would look as a finished building. They were often made to a very high standard, but could be expensive, fragile and cumbersome. Drawing and modelling were also often laborious processes.
If major amendments were needed after technical information and costs had been fed into the detailed specification and tender package, you would literally have to "go back to the drawing board" and start again.
Advances in technology have allowed designers to cut the time they spend on models and drawings, and have also enabled greater accuracy of design. The introduction of more advanced computing into mainstream business during the 1980s saw computer aided design take off across a number of industries. CAD is used extensively to design everything from shampoo bottles to cars, trains and buildings. This has automated much of the redrawing and remodelling process.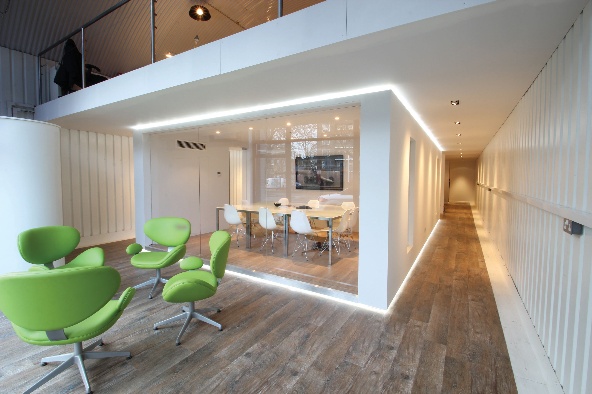 Source: Karndean
Using bim allows all interfaces between the specified flooring and other parts of the building to be reconciled before installation. Here Karndean Design-flooring was installed in London's Push Studios.
The introduction of 3D CAD, which was developed in the 1980s but became more mainstream in the 1990s and 2000s, further increased the quality of design. With 3D CAD there is no need for the designer to imagine how 2D objects fit together, therefore reducing errors.
Advantages of BIM
BIM offers benefits for everyone involved in construction projects, including clients, designers, contractors, suppliers and facilities managers.
The government has recognised this, and adopted a strategy that all projects worth more than £5 million will be managed using BIM by 2016. This is another good reason for companies to adopt BIM.
Early design clarity
Late design changes can result in extra cost and delays to a project. With BIM, architectural models, structural models and MEP models can be brought together to carry out virtual testing and highlight conflicting design decisions.
These errors can then be rectified very early in the process. For example, if an architect specifies a window and a structural engineer specifies a beam that conflict, this will be picked up immediately.
Likewise, if a specification does change, BIM can be used to ensure that no new clashes are introduced. To give an example, if a 20mm hardwood floor covering is specified and the client demands a re-specification to 3mm LVT Designflooring, the BIM software will alert the specifier to the conflict with door frame heights and door sizes.
Virtual testing
BIM allows the creation of a building virtually before it is built, so virtual testing can be done early on in the design process to ensure that standards are met.
Aspects of the design that can be tested include:
Consumption of energy
Carbon emission rates
Airflow
Daylighting
By visualising daylighting, for example, the project team can ensure that skylights are installed at the correct angle and the right size to let in sufficient light. This avoids the need to replace a non-conforming skylight at the end of a build, saving money and time.
Improved visualisations
Architectural models have come a long way since the pre-CAD era of wood, cardboard and glue.
By using 3D studio maps, details can be highlighted and highly detailed planning undertaken, not just by the project team but by the client and end user. BIM visualisations can be used in a number of ways:
Simulating pedestrian use
Pedestrian simulations can be included to view the density of use and identify bottlenecks, flow rates, queue sizes, journey times and so on. Such information has been used to alter timetables for schools and determine optimum numbers of students.
3D parametric models can be used to identify the specifics of products used, for example, in walls and floors, as BIM objects can include a variety of details.
Room loading can also be completed early on to ensure accessibility standards are met with the introduction of furniture, for example under the Disability Discrimination Act.
Time and cost are often referred to as the fourth and fifth dimensions of BIM.
By incorporating all of the elements of a construction project, including the time scale, BIM can establish sequencing early on in a project and flag up whether there are any potential clashes in the programme. This can avert delays and, by consequence, save additional costs. For example, when time is added to the model, detailed visualisations of the following can take place:
What is being done at any given moment
Activities on a certain date
What plant is needed
What hoardings are needed
Impact on the local area
At present, the major software packages do not automate this process and major revisions still need reworking, but it is a good start.
Cost information can then be added to form the 5D model, including:
Quantities
Labour
Schedule
Equipment
Rates can then be added, to better understand the cost of the build at a micro scale.
BIM Academy case study
The BIM Academy cites a real-life example from the US.
The use of BIM on a recent project highlighted a structural beam conflict with a sprinkler pipe, enabling it to be immediately rectified.
If it had not been dealt with at an early stage, the conflict would have become apparent during construction, after all the structural supports had been set. In other words, it would have cost $4,664 per clash, which, as there would have been 10 instances per storey, would have risen to $46,640. And as it was a 15-storey building, the total cost would have been $699,600.
It would have incurred the following costs per clash:
$3,800 for replacing materials
$205 for removing the beam with a crane
$195 for installing the new beam with a crane
$464 for cutting the hole for the pipe in the beam
What is BIM?
BIM is the next stage in developing architectural models and integrating them with the whole construction process. It is not a single piece of software, but an integrated digital process providing coordinated, reliable information about any given project. In effect, it gives meaning to what are, within CAD, just shapes.
Source: © 2011 Tekla Corporation
A whole model view of a project using BIMsight software by Tekla.
Though the most visible face may be the geometric model, BIM is essentially a database of information from many different compatible sources, including 3D CAD, which can be drawn on by all those involved in the construction, maintenance and eventual demolition of a building. This information may come from many sources, including:
Revit AutoCAD
National Building Specification's (NBS) free online National Bim Library, which includes generic bim objects for systems and products such as walls, windows, doors, founda-tions, cladding and roofs. This will be launched at Ecobuild. BIM objects can include installation instructions and guidance on maintenance.
Plug-ins for factors such as environmental conditions, people flow, project management and life-cycle assessment.
The BIM Academy, a partnership between Ryder Architecture and Northum-bria University, describes the process as the "digital representation of physical and functional characteristics of a facility, creating a shared knowledge resource for information about it, [and] forming a reliable basis for decisions during its life cycle".
Source: BDonline
Related articles
31 redundancies in Leeds and Manchester
Careyojnes Chapmantolcher's two northern offices have gone into administration, resulting in 31 redundancies.
The London-based practice's offices in Leeds and Manchester – collectively known as Studio North – will close as a result of a "greatly reduced workload".
Joint administrator Mike Kienlen of Armstrong Watson said: "Careyjones Chapmantolcher is one of the best known architectural practices in the UK and has a national reputation for high-quality award-winning schemes.
"Eighteen months ago, the business adopted a new structure, dividing its operations into north and south. Unfortunately, the northern company has suffered particularly badly from the poor financial conditions in the property market which have delayed the start of many of its projects.
"Rather than waiting for cash-flow problems to escalate, the management has taken decisive action in order to protect as many of its creditors as possible."
Tim Tolcher of Careyjones Chapmantolcher added: "The London-based group company will be maintaining and developing its national presence and continuing to provide a high level of service to all of our clients."
Last April the practice submitted plans for student housing in Salford.
Source: BDonline
The proportion of architects that are women has dropped from nearly a third to just a fifth in the past three years, making the profession increasingly male dominated.
Since the Royal Institute of British Architects (RIBA) started its Future Trends Survey in January 2009, it has been monitoring employment levels for women architects. When the survey started women made up 28% of architectural staff in practices in the survey. Its latest survey in December 2011 revealed that the figure was just 21%.
RIBA director of practice Adrian Dobson described the exodus of women from the profession during the hard times as a cause for concern. The recession had had a "disproportionate impact" on employment levels for women working in architecture, he said.
Mr Dobson added: "The RIBA remains committed to addressing these inequalities through initiatives including the Architects for Change and Women in Architecture groups."
The RIBA Future Trends Survey for December 2011 also showed that overall confidence concerning future workloads for architects is getting increasingly fragile.
The RIBA Future Trends Workload Index for December 2011 stands at -11, down from -4 in November 2011.
Practices in London and the southeast of England prove more optimistic about future demand for services, while those in Northern Ireland remain the most pessimistic.
Despite the survey showing confidence remaining delicate, it has also revealed that the actual level of work in progress has stabilised in recent months.
The RIBA Future Trends Staffing Index stands at -5 compared to -4 in November 2011. Practices located in London are more likely to be recruiting staff during the next quarter than those in the rest of the UK.
Mr Dobson added: "Our respondents and practices continue to report intense fee competition, restrictions in bank lending and uncertainty over the general economic outlook as their main challenges."
Source: The Construction Index
Related articles
Claimed to be the first book to set out a professional standard for running an interior design project, The BIID Interior Design Job Book from RIBA Publishing sets out a step-by-step process for interiors projects which adopts the standard procedures used by architects and contractors.
Written by the experienced multi-disciplinary architecture and interior design team of Diana and Stephen Yakeley, the job book offers practical advice alongside model letters and specimen forms that can be quickly adapted to any job. It also provides guidance to the legal background, a clause-by-clause explanation of the standard form of client contract (ID/10), and an introduction to space planning. As the title suggests, the new job book has been fully endorsed by the British Institute of Interior Design. More information.
Source: RIBA
Brazilian practice Königsberger Vannucchi Architects has entered the record books with the world's biggest augmented reality marker for its latest skyscraper.
The Fibrasa Connection project allows customers and potential buyers for the office development, in Vitória, the capital of the southern Brazilian state Espírito Santo, to see the building in situ before construction work has even begun.
In an elaborate set-up, notebook computer displays have been fitted to a helicopter which flies over the site with an augmented reality reader attached. The giant square black and white marker on the ground then triggers a display of a full size 3D model of the 32,000 sq m development on the screens.
There is also a larger screen in the development's sales room.
Similar augmented reality projects have been used across London on a smaller scale, allowing owners of smart phones such as the iPhone, to hold their device up to a black and white square which triggers a real-time view of the surrounding environment with added objects, which have included adverts, buildings and people.
The Fibrasa Connection project was awarded record-breaking status by Guinness World Records at the end of last month.
Seriously, this is the future that China's envisioning: huge friggin' buses engulfing smaller cars on the road. Despite the silly picture and the eccentric "3D Express Coach" branding, this cunning project by Shenzhen Huashi Future Car-Parking Equipment actually makes sense. The idea is to make use of the space between regular-size cars and bridges, thus saving construction costs as well as minimizing congestion impact by allowing cars to drive underneath these jumbo buses. Fancy hitching a ride? You better start planning your move to Beijing's Mentougou district, which is where Huashi will commence building its first 186km of track at year's end. For now, enjoy the Chinese demo video after the break (translation text at source link).