Our offices will be closed from December 29th to the 6th of January.
Activity rose for the first time in half a year in October, but winter is already extending its icy grip around the industry. Experian Marketing Information Services reports
01 / The state of play
After stabilising in September, construction activity rose for the first time in six months in October. The construction activity index posted 52, two points higher than the previous month's reading. At the sectoral level, differing trends continued to emerge, with the civil engineering activity index again signalling falling workloads at 43.
In contrast, the residential and non-residential indices, at 55 and 52, respectively, indicated that workloads rose during the month.
In October, firms reported falling tender enquiries for the first time since March, as the tender enquiries index fell three points to 48. Orders remained below normal for the time of year and the index edged down one point to 46. This was the 28th successive month that the new orders index had been in negative territory. On a sector-by-sector basis, non-residential orders remained above normal for the time of year, but this was not the case for civil engineering and residential orders.
There was little change in the outlook for construction employment during October, with firms largely anticipating a reduction in their staffing levels over the coming three months. Despite the employment prospects index edging up to a five-month high, it remained very negative at 37.
Just over half of respondents (51%) reported that insufficient demand was constraining activity in October, down from 55% in September and the lowest proportion for five months.
Meanwhile the proportion of firms reporting no constraint on activity edged down to 22%, a level not seen since February.
02 / Leading construction activity indicator
The Leading Construction Activity Indicator suggests that the construction industry returned to negative territory in November, highlighted by the index dropping to 49. Further declines in construction are expected into the new year.
The indicator uses a base level of 50: an index above that level indicates an increase in activity, below that level a decrease
03 / Labour costs
In October, all civil engineering firms responding to the survey indicated that labour costs had fallen over the past year. This was in contrast to 33% three months ago.
About 36% of building firms reported that labour costs had fallen over the past year, lower than the 45% of three months ago. The proportion reporting annual labour cost inflation of up to 2.5% rose to 21%, and 26% of building firms indicated that labour costs had risen by between 2.6% and 5% over the past year.
The proportion of firms in the residential and non-residential sectors reporting annual labour cost inflation of more than 7.6% increased from almost 14% in July to 18% in October.
04 / Regional perspective
Experian's regional composite indices incorporate current activity levels, the state of order books and the number of tender enquiries received by contractors to provide a measure of the relative strength of each regional industry.
Three of the 11 regions saw their indices rise in October and two saw no change from the previous month. The strongest increase was in Wales, where the index rose from 37 to 43, its highest reading for five months. The South-west also saw a marked rise, with its index increasing by five points to 52, taking it into positive territory for the first time since June. The
one-point increase in the North-west's index was much more modest, taking it to 41. The indices for East Anglia and Yorkshire and Humberside remained unchanged at 52 and 39, respectively.
The strongest decline was in Scotland, with its index dropping five points to reach the no-change mark of 50. The West Midlands' index fell three points to 44, its lowest reading for seven months, while Northern Ireland saw its index decline by two points to 36, the most negative score across all the regions.
The index for the UK, which includes firms working in five or more regions, declined by five points to 52.
Source: Experian
There are now only 2.1m employed in the UK construction industry according to new data.
Construction saw another dip in jobs and pay in the last quarter as the industry continued to feel the affects of the tough market conditions.
The industry shed 17,000 jobs from June to September 2010 and 27,000 since September last year. The industry now only employs 2.1m workers, according to the Office of National Statistics.
Average pay for the construction sector fell to £529 per week in October. The three-month rolling average of wage increase dropped to -1.3%, the lowest growth rate since records began in 2001 and the third consecutive fall. Average weekly wages have dropped £12 since October last year, when the figure was £541.
However, there was evidence the contraction in jobs is slowing as the industry lost relatively fewer jobs last quarter. 18,000 jobs were lost from July to September, down 20% on 2009. 1,000 additional vacancies were advertised from July to September.
Source: Building.co.uk
A survey of construction professionals by NBS has raised the prospect of a two-way split between practices that adopt Building Information Modelling (BIM) and those that will be left behind, despite general acceptance that the use of the collaborative BIM approach is going to become widespread in the near future.
Presenting the survey results to CIBSE's BIM: who benefits? conference, NBS's Dr Stephen Hamil reported that while half of the industry is making preparations to adopt BIM on a majority of future projects, the rest has little awareness of what it is all about. At the same time, when presented with a range of scenarios, the majority view was that half of construction industry will be using BIM for the majority of projects within three years.
'The survey shows a clear split in the industry,' says Hamil.
BIM has been gathering momentum among champions of construction best practice for some time, with the government's construction advisor Paul Morrell last week calling for BIM to become mandatory on central government projects with a value greater then £50m.
In the Innovation and Growth Team's report to government on how the industry should meet the low carbon challenge, Morrell declared that BIM's time had come and that it was the practice that had the greatest potential to transform the habits, and eventually the structure, of the industry.
He went on to call for a new industry forum to identify where BIM is appropriate (in terms of type or scale of project) and how barriers to wider take-up can be overcome, with the objective of establishing an industry protocol for future ways of working.
Definitions of BIM vary, but Hamil stresses that it should not be confused with 3D modelling or CAD. NBS describes BIM as a rich information model consisting of multiple data sources, some of which will be shared between all stakeholders, with the potential for information to be used throughout the life of a building, from inception to recycling.
'The key here is rich information. This is more than geometric information from a CAD model. The information model might include contract and specification properties, personnel, programming, quantities, cost, spaces and geometry to achieve the real benefits a BIM has to offer. Software is the interface to a building information model, rich content is what populates it,' explains Hamil, head of BIM at NBS.
From a procurement stance, Morrell sees BIM at the heart of integrated supply chains, with the potential to reduce or eliminate error, cut out waste and reduce transaction costs.
NBS is committed to promoting BIM and the debate on its future adoption and is actively researching the subject. Architects can access a video introduction to BIM at NBS| as well as Hamil's presentation to the BIM: who benefits? conference|.
Source: RIBA
Riba Trust trustees and Riba councillors have spoken of their anger over the sudden scrapping of the Riba Trust.
They are furious that they were not consulted about the plan, decided last week. And they have raised fears for the future of the trust's work and for the world-class collections for which it is responsible.
At a meeting last Thursday, Riba Council voted to scrap the body and replace it with a committee. It will cease to exist on December 31.
Riba chief executive Harry Rich said it was merely a simplification of an overly complex structure which would bring it in line with most other charities and which would not affect its activities.
He said: "This will allow the Riba to focus as much energy and money as possible on its outward-facing work, rather than on internal structures."
But some trust members said it left the collection in a precarious position.
Paul Davis, who spoke against the move at council on Thursday, said: "It's a national asset and I am concerned we haven't got the structures and resources in place to ensure its future."
Roger Zogolovitch, a Riba Trust trustee, vowed to fight to overturn the decision.
He issued a statement today (Tuesday) praising the trust's work and protesting against the Riba's move.
"I am sure my fellow architect trustees will share my embarrassment at this discourteous and unilateral action which has been promoted by the Riba Board and sanctioned by the Riba Council," he wrote.
"It is unreasonable that non-architect trustees, who have given their time and effort tirelessly over long periods of time to such good effect, have not been afforded the common courtesy of an explanation.
"There has been no meeting of the trust board where any paper has been presented for discussion, and no consultation with my fellow trustees has been undertaken. Yet on the 1st of January 2011 we will cease to exist.
"This is a state of affairs that must not go unchallenged."
Source: BDonline
These are excerpts taken from our encounter with Mr. Alexander Moore (LJ Hooker) at the LJ Hooker HQ of India in Bangalore.
At the outset, we would like to thank Alexander for his time and sharing his deep understanding on the challenges and opportunities presented by the wider property market in India.
Where does one start when looking at the Indian population demographic and how it will affect the local property industry ?
Let's begin with the sheer volume. The population of India is close to 1.2 billion people, second only to China who currently stands at over 1.3 billion.
By 2025 India will surpass China as the most populace place on earth, and by 2050 India will have over 20% more people than China – a difference of almost 500 million people (this difference being larger than the entire US population). Current growth rates are some 20 million new Indian citizens per annum, and rising. We already have a shortfall of over 22 million dwellings (supply v demand), this being the starting point before we consider any of these demographic changes taking place, and the effect they will have on demand. But the age distribution of the population is the really important statistic for India over the next 40 years. 30% of India's current population is 14yrs and below, with a median age of only 25.9 years – this is 26% lower than the median age in China and 32% lower than the US.
Whilst the developed world has had a gradual slowing of population after the post war baby boom years, China has had a policy induced change which has resulted in an abrupt shift in the population bell curve. China is nearing the end of a period of massive expansion driven by a huge labour pool and consumer demand. The median age of the Chinese population is getting older at a very rapid rate, before long the equation of those producing against those needing support will turn upside down. China will then be with the developed world looking at a situation where there are too many dependants and too few producers, low (if any) population increase, and minimal (in any) demand for new property. In India we find that by default we are one of the very few places where we can rely on massive demand for property well into this century and beyond.
At present it is accepted that around 25% of the population are middle class consumers (of property and the like) with the balance of close to 1 billion people making up an aspirant class who would all like to participate in the new economy, and who are all looking for the means to do so. India has 29% of its people currently in the urban cities with an urbanisation rate of 2.4% per annum. This means India has one of the worlds least urban populations with massive slabs of the population able to change over to an urban and consuming profile. Let's look at some of the underlying statistics that will affect the property market in India over coming years;
Starting point of unmet demand that exceeds 22 million dwellings
Population growth of over 20 million per annum
Shrinking household sizes (currently over 5.5 pph) with a world average of only 2.4 pph.
Massive urbanisation underway. Starting at only 29% and rising at better than
2.4% per annum.
A current non consuming aspirant population of close to 1 billion people.
A very young population that is entering a production phase.
The demand side of the equation in India is all but assured. The question is "what exactly is the demand going to be for, and how and when will the demand profile change ?" As a developer you can still go broke if you produce the wrong product. This is the conundrum for our industry, accurately predicting the exact profile of the demand, and doing so 3-5 years ahead of the market. Too often we see the development community taking a herd mentality, and based on not much more than hearsay, producing large volumes of the wrong product - either in the wrong price point, wrong location or wrong format. The market has to be met. More and more developers are now looking at sound research based decision making that really analyses the market, carefully looks at where the demand should be, and then  delivers suitable product.
This is the challenge for companies like LJ Hooker, getting partnered with development companies early enough so we can provide significant relevant input to allow the formation of intelligent well thought through decisions.
The Indian market will deliver in spades over coming years to those companies that can produce the product that the market requires.
North America, Australia and Middle East are main targets as UK heads for 'triple-dip recession'
North America, Australia and the Middle East will be the biggest target markets for global construction firms over the next two years as firms shy away from European regions hit by recession, research by KPMG suggests.
Its survey of 140 firms worldwide revealed that 93% would make the Middle East a focus despite recent economic problems in the UAE, while 95% will focus on Australia and 95% on North America. All three regions saw major increases in interest, as did Africa (a target market for 90% of respondents) and Asia (a target market for 92%).
There were drops in overall interest towards Central America, Europe, South America and the UK, although all still provided a focus for a large number of firms. India also proved less of a target than it has in the past.
Fiona McDermott, UK head of building and construction at KPMG, said: "The willingness of contractors to move into new markets, and possibly to evolve their value proposition, could be the difference between thriving and merely surviving. With margins unlikely to rise for traditional business, such a repositioning could be vital."
Moving into new markets could be the difference between thriving and merely surviving
Fiona McDermott, KPMG
Among UK firms, the power and energy sector topped the list of both public and private sector targets for the next two years. Sixty-seven per cent of respondents said that the public power and energy sector was a high priority, and 60% identified private clients in the sector as a target. Water-related projects were also a key market.
The change in focus comes as the Construction Products Association predicted the industry would hit a third dip, returning to negative growth next year and in 2012, after the two earlier periods of output decline experienced since the recession began in 2007.
Home and away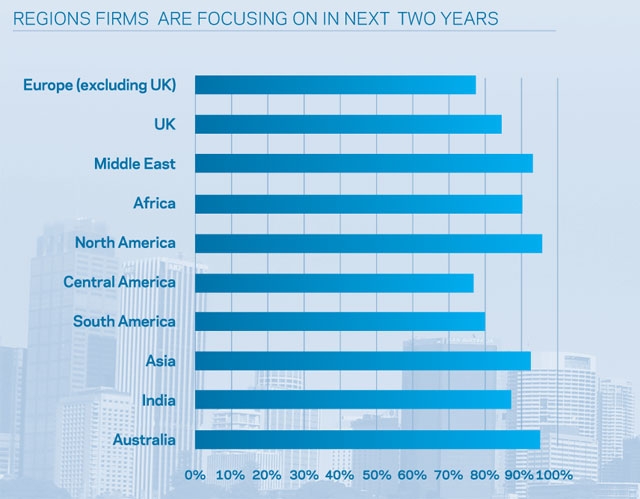 Regions firms are focusing on in next two years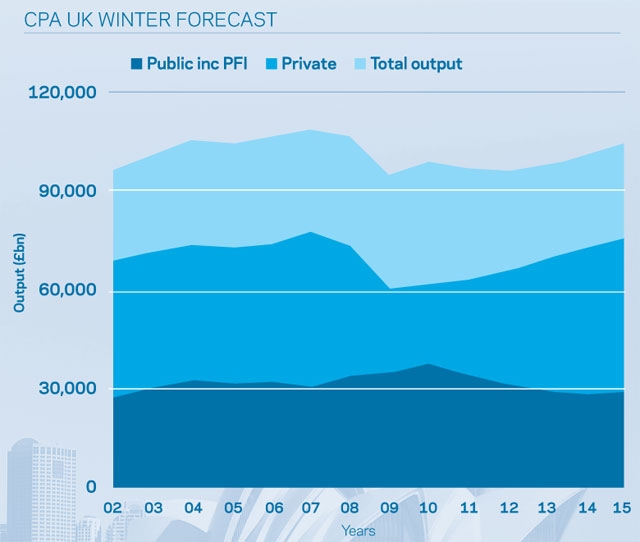 CPA UK winter forecast
The output falls, of 2% next year and 0.7% in 2012, are deeper than previously anticipated because of the quick cuts to public spending and weaker than expected private sector growth.
Kelly Forrest, senior economist at the CPA, said the organisation expected a weaker end to 2010 because of the early wintry conditions, following three quarters of strong growth this year. "The weather will inevitably have an impact," she said. "Technically we are heading for a triple-dip recession for construction."
The CPA has revised its forecasts down since the autumn, when it expected the industry to fall only 0.8% next year and start to grow in 2012. Now it is not predicting a return to growth until 2013.
The figures are gloomier than the government's, and estimate that construction output will not regain its 2007 peak of £108bn within the next five years.
The association now says the hoped-for private sector recovery will not be strong enough to avoid further overall falls: the 6% rise in private sector work predicted in the next two years is set against a public sector contraction of 17%.
This collapse will be led by public sector housing, with a reduction in starts of 40% over the next two years. Output in the education sector is also set to shrink by 46% over the next
three years.
Construction output on rail, however, will double by 2015 despite a drive for cost savings on major projects including Crossrail and Thameslink.
Michael Ankers, chief executive of the CPA, said: "The increase in construction output in 2010 has been an important component of the growth in GDP over the last two quarters. Unfortunately, these latest forecasts show that construction is unlikely to provide the same impetus over the next two years."
Source: KPMG
Half of the UK's construction firms have been forced to cut bid prices by more than 10% over the past year in an attempt to win work, a major report reveals.
KPMG's global construction survey, published today, shows 13% of UK firms - more than one in eight - were mainly bidding on a break-even basis. A further 38% said their usual strategy was to cut prices by more than 10%.
The figures highlight the depth of the impact of the recession on construction prices, and will raise fears that low bidding could lead to more high-profile insolvencies in the new year.
Fiona McDermott, KPMG's global head of building and construction, said: "Globally, around 5% of people are increasing prices, but in the UK everyone's reducing. The UK is clearly feeling the pain more, and this shows just what a really challenging time it is.
"The expectation is that when the investigation into Connaught's collapse is complete it will be found they were pricing below break-even levels. I think it is inevitable we will see more similar fall-outs.
"Larger companies can do this for longer as they can spread it among more projects, but smaller firms in particular will suffer. And once you reduce pricing, it's really hard to go back to original levels without offering something more innovative."
Many contractors are still reducing the price of bids, the survey suggests: 25% of companies said margins on new projects were more than two percentage points lower than on their backlog of work. The remaining 75% reported no change. No firms reported an increase in margins.
The report comes amid continuing concern over the outlook for the UK industry in 2011 against a backdrop of public spending cuts.
KPMG found that 31% of UK firms expect their backlog to rise over the next year, but this is considerably lower than the global number of companies reporting such optimism (48%).
The Construction Products Association this week warned the sector was heading for a third dip, falling back into decline next year and in 2012, after two earlier falls in output since the recession began in 2007.
Source: KPMG
Architecture students are stepping up their protests at the planned rise in tuition fees by occupying student campuses and preparing to take to the streets ahead of Thursday's vote on the issue by MPs.
Architecture students from the Bartlett already carrying out a sit-in at the main UCL building in central London have been joined in a copycat protests by students at London Metropolitan University and the Royal College of Art.
Around 15 students have been occupying the Met's finance department and sleeping overnight in a nearby lecture theatre.
One of the protesters, part II student, Peter Croft, said: "The university authorities obviously don't want us here but lots of students and lecturers have been very supportive of it."
The protesters have drawn up a series of demands that have been sent off to university managers, including vice chancellor Malcolm Gillies, which include guarantees that no disciplinary action is taken against students involved.
Protesters also want the university's management team to "explicitly condemn government spending cuts in education and increase in tuition fees to higher education". The Coalition government's plans could see fees rise to as much as £9,000 a year.
Architecture students from the RCA began their own sit-in on Tuesday night.
RIBA Council student representative Alex Scott-Whitby said he was planning to attend council's scheduled meeting before heading off to Westminster to join student protests as the vote in the House of Commons takes place.
"For a lot of the students involved, a rise in tuition fees won't actually affect them directly," the part II student from the London Met added. "But this is about future students and I think as students it shows we're being more socially responsible by raising this now."
The Riba has teamed up with schools heads organisation Schosa to write to universities minister David Willetts protesting at the government decision not to protect block grant funding for part II courses.
Core grant funding will only be available to Science, Technology, Engineering and Medicine courses and Riba president Ruth Reed said a rise in course fees to cover the shortfall would be worse for students on longer courses like architecture.
Source: BD online
A new survey launched by standards and specifications expert NBS has revealed an 'alarming lack of awareness' of BIM across the construction industry.
The survey of 386 construction professionals, including 155 architects,showed that 43% were either unaware of or hadn't used Building Information Modelling (BIM).
The results come just a month after chief government construction advisor Paul Morrell revealed plans to introduce BIM into the public procurement process.
Of the respondents to the NBS survey who were aware of BIM, only 10% were currently using it for the majority of projects. However, more than 70% believed that BIM was the future of project information management and two thirds expected to use it for the majority of projects within the next five years.
More than half of those already using BIM said it had improved profitability and 81% said it had improved productivity.
NBS said that the largest barrier to widespread adoption of BIM was the perception that introducing the process would mean expensive and drastic changes to their existing systems. Only 18% of respondents believed that BIM was a synonym for Cad drawing - a misconception often cited as a barrier to widespread adoption.
"The main risk is that the industry splits in two," said Stephen Hamil, head of BIM at NBS. "Half the industry is clearly making steps to adopt BIM and these practices will win competitions and will have better people wanting to work for them. You'll end up potentially with a two tier system."
Hamil said that the survey had also revealed a surprising variety of software packages being used across the industry.
Source: BD online