These are excerpts taken from our encounter with Mr. Alexander Moore (LJ Hooker) at the LJ Hooker HQ of India in Bangalore.
At the outset, we would like to thank Alexander for his time and sharing his deep understanding on the challenges and opportunities presented by the wider property market in India.
Where does one start when looking at the Indian population demographic and how it will affect the local property industry ?
Let's begin with the sheer volume. The population of India is close to 1.2 billion people, second only to China who currently stands at over 1.3 billion.
By 2025 India will surpass China as the most populace place on earth, and by 2050 India will have over 20% more people than China – a difference of almost 500 million people (this difference being larger than the entire US population). Current growth rates are some 20 million new Indian citizens per annum, and rising. We already have a shortfall of over 22 million dwellings (supply v demand), this being the starting point before we consider any of these demographic changes taking place, and the effect they will have on demand. But the age distribution of the population is the really important statistic for India over the next 40 years. 30% of India's current population is 14yrs and below, with a median age of only 25.9 years – this is 26% lower than the median age in China and 32% lower than the US.
Whilst the developed world has had a gradual slowing of population after the post war baby boom years, China has had a policy induced change which has resulted in an abrupt shift in the population bell curve. China is nearing the end of a period of massive expansion driven by a huge labour pool and consumer demand. The median age of the Chinese population is getting older at a very rapid rate, before long the equation of those producing against those needing support will turn upside down. China will then be with the developed world looking at a situation where there are too many dependants and too few producers, low (if any) population increase, and minimal (in any) demand for new property. In India we find that by default we are one of the very few places where we can rely on massive demand for property well into this century and beyond.
At present it is accepted that around 25% of the population are middle class consumers (of property and the like) with the balance of close to 1 billion people making up an aspirant class who would all like to participate in the new economy, and who are all looking for the means to do so. India has 29% of its people currently in the urban cities with an urbanisation rate of 2.4% per annum. This means India has one of the worlds least urban populations with massive slabs of the population able to change over to an urban and consuming profile. Let's look at some of the underlying statistics that will affect the property market in India over coming years;
Starting point of unmet demand that exceeds 22 million dwellings
Population growth of over 20 million per annum
Shrinking household sizes (currently over 5.5 pph) with a world average of only 2.4 pph.
Massive urbanisation underway. Starting at only 29% and rising at better than
2.4% per annum.
A current non consuming aspirant population of close to 1 billion people.
A very young population that is entering a production phase.
The demand side of the equation in India is all but assured. The question is "what exactly is the demand going to be for, and how and when will the demand profile change ?" As a developer you can still go broke if you produce the wrong product. This is the conundrum for our industry, accurately predicting the exact profile of the demand, and doing so 3-5 years ahead of the market. Too often we see the development community taking a herd mentality, and based on not much more than hearsay, producing large volumes of the wrong product - either in the wrong price point, wrong location or wrong format. The market has to be met. More and more developers are now looking at sound research based decision making that really analyses the market, carefully looks at where the demand should be, and then  delivers suitable product.
This is the challenge for companies like LJ Hooker, getting partnered with development companies early enough so we can provide significant relevant input to allow the formation of intelligent well thought through decisions.
The Indian market will deliver in spades over coming years to those companies that can produce the product that the market requires.
North America, Australia and Middle East are main targets as UK heads for 'triple-dip recession'
North America, Australia and the Middle East will be the biggest target markets for global construction firms over the next two years as firms shy away from European regions hit by recession, research by KPMG suggests.
Its survey of 140 firms worldwide revealed that 93% would make the Middle East a focus despite recent economic problems in the UAE, while 95% will focus on Australia and 95% on North America. All three regions saw major increases in interest, as did Africa (a target market for 90% of respondents) and Asia (a target market for 92%).
There were drops in overall interest towards Central America, Europe, South America and the UK, although all still provided a focus for a large number of firms. India also proved less of a target than it has in the past.
Fiona McDermott, UK head of building and construction at KPMG, said: "The willingness of contractors to move into new markets, and possibly to evolve their value proposition, could be the difference between thriving and merely surviving. With margins unlikely to rise for traditional business, such a repositioning could be vital."
Moving into new markets could be the difference between thriving and merely surviving
Fiona McDermott, KPMG
Among UK firms, the power and energy sector topped the list of both public and private sector targets for the next two years. Sixty-seven per cent of respondents said that the public power and energy sector was a high priority, and 60% identified private clients in the sector as a target. Water-related projects were also a key market.
The change in focus comes as the Construction Products Association predicted the industry would hit a third dip, returning to negative growth next year and in 2012, after the two earlier periods of output decline experienced since the recession began in 2007.
Home and away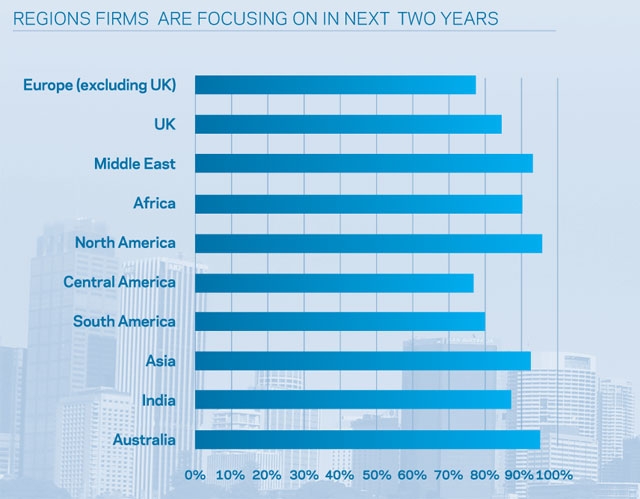 Regions firms are focusing on in next two years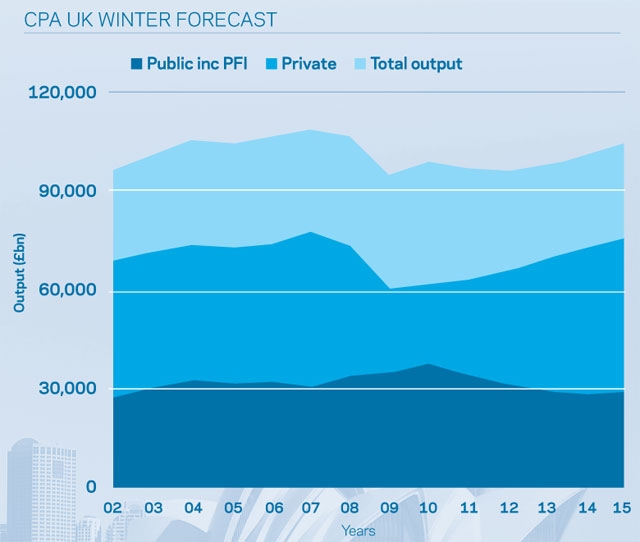 CPA UK winter forecast
The output falls, of 2% next year and 0.7% in 2012, are deeper than previously anticipated because of the quick cuts to public spending and weaker than expected private sector growth.
Kelly Forrest, senior economist at the CPA, said the organisation expected a weaker end to 2010 because of the early wintry conditions, following three quarters of strong growth this year. "The weather will inevitably have an impact," she said. "Technically we are heading for a triple-dip recession for construction."
The CPA has revised its forecasts down since the autumn, when it expected the industry to fall only 0.8% next year and start to grow in 2012. Now it is not predicting a return to growth until 2013.
The figures are gloomier than the government's, and estimate that construction output will not regain its 2007 peak of £108bn within the next five years.
The association now says the hoped-for private sector recovery will not be strong enough to avoid further overall falls: the 6% rise in private sector work predicted in the next two years is set against a public sector contraction of 17%.
This collapse will be led by public sector housing, with a reduction in starts of 40% over the next two years. Output in the education sector is also set to shrink by 46% over the next
three years.
Construction output on rail, however, will double by 2015 despite a drive for cost savings on major projects including Crossrail and Thameslink.
Michael Ankers, chief executive of the CPA, said: "The increase in construction output in 2010 has been an important component of the growth in GDP over the last two quarters. Unfortunately, these latest forecasts show that construction is unlikely to provide the same impetus over the next two years."
Source: KPMG
MUMBAI: With the high networth individuals (HNWIs) population showing a robust growth of 33.2 per cent in the Asia-Pacific region last year, India and China are likely to remain the fastest-growing HNWI segment in the world, a report said today.
Emerging Asia (China, India, Indonesia and Thailand) is fast becoming the main engine of growth in the Asia-Pacific region and its HNWI segment showed a robust growth of 33.2 per cent in 2009, with wealth up 40.4 per cent, according to the 2010 Asia-Pacific Wealth Report released by Merrill Lynch Global Wealth Management and Capgemini, here.
India and China were the only two major Asia-Pacific countries in which industrial production actually rose in 2009, as they enjoyed a more diversified export market and broader domestic demand.
Hong Kong and India, which experienced the world's largest decline in HNWI population and wealth in 2008, experienced the strongest resurgence in 2009. The population of HNWIs grew 104.4 per cent in Hong Kong, almost reaching pre-crisis levels and 50.9 per cent in India, the report said.
HNWI wealth in Hong Kong and India jumped 108.9 per cent and 53.8 per cent, respectively, amid strong growth in both markets and macro-economic drivers of wealth.
"The strong economic resurgence in India has been boosted primarily by the country's stock market capitalisation which more than doubled in 2009 after dropping 64.1 per cent in 2008," Merrill Lynch Wealth Management, India, Chairman, Pradeep Dokania, told reporters here.
"The increased confidence by Indian HNWIs facilitated by the strength of the underlying economy which grew 6.8 per cent in 2009 has resulted in a surge in HNWI wealth in the region," Dokania said.
"China and India will lead the way in the Asia-Pacific region with economic expansion and HNWI growth is likely to keep out-pacing more developed economics," he said.
China's rapid GDP growth is expected to slow a little to 8.3 per cent in 2011. Going forward, China is expected to focus on balancing its economy by boosting the service sector and driving private consumption.
Source: Economic Times
INDIA expects to become a bigger business partner of China and welcomes Chinese investment into its infrastructure and manufacturing sectors. It also hopes to export value-added technologies to China.
A delegation of 70 companies in sectors ranging from IT and machinery to pharmaceuticals and agriculture are in Shanghai this week, seeking business opportunities and celebrating India's national day at the World Expo on Wednesday.
"China and India are becoming more interdependent," said V K Topa, managing director of Invest India, at a conference today in Shanghai. "As the world's two most populous countries, China and India are together because many issues in today's business world are relevant to both of us." China is India's second-largest trading partner while the number of Chinese investors in India is also on the rise. Bilateral trade has been expanding at a rate of more than 40 percent in recent years. China's imports from India surged 75.3 percent to US$13.3 billion in the first seven months of this year from the same period last year, while exports to India jumped 40.1 percent to US$22.1 billion, according to China's Customs. Topa said India is a big and lucrative market for Chinese investors when everything is just taking off, and India has the "skills" China needs to upgrade its manufacturing structure.
Sha Hailin, chairman of the Shanghai Commission of Commerce, said China, especially Shanghai, can learn a lot from India, particularly in the service outsourcing sector. "We should further promote collaboration between China and India and have more exchanges in investment, technology, projects and research," Sha said. Chinese companies such as ZTE Corp and China Wireless Technologies Ltd have already entered India for market potentials there.
Source: Shanghai Daily
The Sudanese government has officially issued the approval letter for the Upper Atbara Hydro Junction Project's construction and its water facilities to the joint venture of China International Water & Electric Corporation and its parent company, the China Three Gorges Corporation, with the total contract worth 838 million U.S. dollars, the China Three Gorges Corporation announced on April 7.
The Upper Atbara Hydro Junction Project will obtain financial support from the Sudanese government and the total time of construction will be five years and four months. Currently, it is the largest single construction project any Chinese company has undertaken in Sudan and also the second largest overseas single hydraulic engineering project signed by a Chinese company.
The signing of the contract agreement marks that China Three Gorges Corporation has successfully pushed through its strategy of going global and has carried out its internationalized operating strategy.
The project is located at the border area between Kassala State and Gedaref State in eastern Sudan, 460 kilometers away from Khartoum Road. In addition, the project consists of the Rumira Dam, Bodana Dam, as well as other ancillary works. The project is aimed at providing irrigation and water supply as well as power generation.
The joint venture will build a reservoir with a storage capacity of around 3 billion cubic meters and an irrigation area of 500,000 hectares. Moreover, the reservoir will provide 7 million people with irrigation water, 3 million people with drinking water and millions more with electricity, which will benefit at least one-third of Sudan's population.
A grand signing ceremony was held in the Sudanese capital Khartoum on April 6 in the presence of Sudanese President Omar al-Bashir. Moreover, the director of the Dams Executive Bureau directly under the Sudanese President signed the contract with China Three Gorges Corporation Deputy General Manager Lin Chuxue, and the General Manger of China International Water & Electric Corporation Lu Guojun.
Seriously, this is the future that China's envisioning: huge friggin' buses engulfing smaller cars on the road. Despite the silly picture and the eccentric "3D Express Coach" branding, this cunning project by Shenzhen Huashi Future Car-Parking Equipment actually makes sense. The idea is to make use of the space between regular-size cars and bridges, thus saving construction costs as well as minimizing congestion impact by allowing cars to drive underneath these jumbo buses. Fancy hitching a ride? You better start planning your move to Beijing's Mentougou district, which is where Huashi will commence building its first 186km of track at year's end. For now, enjoy the Chinese demo video after the break (translation text at source link).